This Christmas Dinner in Manchester is inspired by The Tope Project who did it first in London last year.   Louise Wallwein writes on the crowdfunder site   "The Christmas Dinner is a pop up organisation founded by Lemn Sissay.   We are a group of 10 professionals who between us have over a hundred years experience of working with young people."  I gathered a group of of people together   on October 6th 2013 via Google Conference. The aim:  to provide a Christmas day dinner for care leavers aged between 18 and 25. Louise says   "Many care leavers are sat in flats, B&B's, hostels, away from family or are sofa surfing and indeed living on the streets on their own at Christmas."  Some are in student accomodation and left alone at this time.
" Christmas can be  a reminder of everything they never had. It's often a dreaded day.   We know. The Christmas Dinner steering group is made up of  care leavers and  those  who work with care leavers.    We will put on a scrumptious Christmas meal for 40  18-25 year old care leavers and create a magical Christmas day to remember in Manchester.    The Christmas Dinner is a life changing life saving experience. It is a time of
warmth and happiness. A time to have a good laugh  The Christmas Dinner team believes the whole country should create an event like this for care leavers.
We are motivated by the need to bring about change in how  community can assist and include young care leavers.  Christmas is a time for family and in the absence of family these care leavers should be able to rely on us. With your help this Christmas they can. I brought The Christmas Dinner team together  for its first meeting  on October 6th 2013. By December 6th via crowdfunder we  raised a total of  £9,500.  Our target was £5,000.  The money is thankfully being accounted through charity  pure innovations via steering group member Sarah Sturmey.
In four meetings over two months The Christmas Dinner team found a venue,  food, chef, quality presents, entertainment  and volunteers, and all the resources to make it  happen. No stone is  unturned. The work load is equally spread: one person found the venue, another the food
, another dealt with referrals, another with volunteers and training and DBS, another is dealing with travel for the attendants, another stage management of the venue, another financial matters and accounts.  It is an equal workload in that everyone has done what they can. We are  aware of  care leaver teams,  The Care Leavers Association and Barnado's.   We want to work with them.
We have received kind pledges of gifts and money from individuals and companies. We will be blogging to everyone and sending out cards of thanks.   We have raised awareness of the care leaver and the challenges we face as adults in our society.  You the public have responded.  We are incredibly touched and grateful for your support and your generosity. We set out to raise enough funds for Christmas Dinner  this year, and what is  overwhelmingly wonderful is that we now have the opportunity to get started on what we can do in Manchester in 2014.
Postnote:  It is not over. The volunteers are receiving training next week. We've one more full steering  group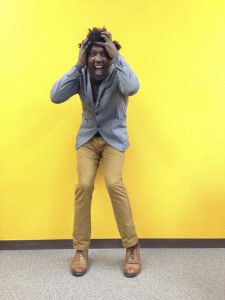 meeting on 11th December.  We need presents. There'll be 45 care leavers between 18 to 25 years old.  So we need 45 of any present unless its gender specific then it's 23 cause we assume half will be women and half men.   Do you work for a company that can offer us Christmas presents,  40 ipads, ipods, nintendo,   sports equipment,  book tokens,  kindles, socks, scarves, gloves.   I'm just thinking off the top of my head. Thanks for everything.    thechristmasdinner2013@gmail.com.
Photographs: BBC radio 6 Mary Anne Hobbs – painting by John Hobbs  then  Tom Bloxham who donated £1,000 to The Christmas Dinner, then Leah Byrne of PictureHouse Cinema who've  donated a room called   PictureHouse Christmas  for the after dinner film showing.   There will be public  acknowledgement of all gifts by Christmas Day…